For non-emergencies, please call (570) 788-5339
To email our police department write police@sugarloaftwp.org
You may also fax the department at (570) 788-9816
Members
Police Chief Joshua Winters
Sergeant Justin Ackerman
Officer Kyle Steinbacher
Officer

Vladymir Soto-Bonilla

Officer Carol Davenport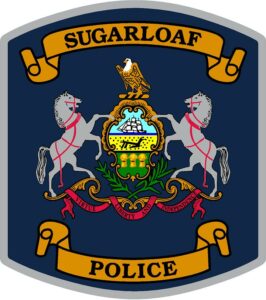 Welcome to the home page of the Sugarloaf Township Police Department. This page was designed to give you a brief overview of our Department and the services we provide. Sugarloaf Township Police provide service year-round to a 35 square mile area located in southern Luzerne County.
Each member of our department has received specialized training in various aspects of policing. Here are some of these specialized services that our department provides to make our community safer.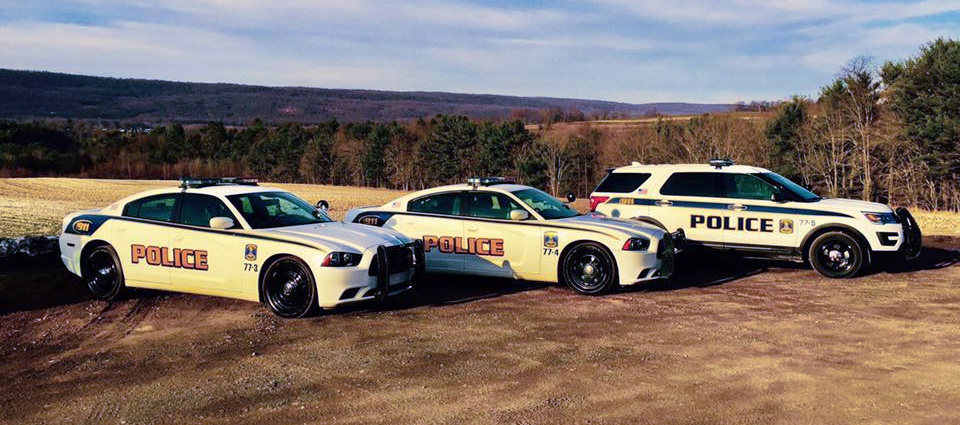 Jobs
The Sugarloaf Township Police Department is seeking to fill the position of Police Officer. For more details see:
Motor Carrier Safety Assistance Program
Each officer of the Sugarloaf Township Police receives specialized training by the Pennsylvania Department of Transportation relating to various laws pertaining to commercial vehicles. Each officer is certified to work with representatives from Penn Dot to issue citations to commercial vehicles for unsafe conditions, including being overweight.
One officer has received in-depth training and can conduct specialized inspections including examining log books and braking systems. He has the power to place unsafe commercial vehicles and commercial drivers "out of service" until the unsafe condition is corrected. Each inspection is logged and reported to the national database which enables other commercial vehicle inspectors to view the safety record of commercial vehicle carriers.
Accident Reconstruction
One Sugarloaf Township officer is certified as a Traffic Accident Reconstructionist. Traffic Accident Reconstruction is a detailed science that is based upon mathematical formulas and other forces that are involved in a motor vehicle collision.
Drug Task Force
The Sugarloaf Township Police actively participate with the Pennsylvania Attorney General's Drug Task Force. The Task Force has statewide jurisdiction for the pursuit of drug traffickers which destroy our communities. Members of our department have participated in local, state, and federal covert and overt operations which have led to the seizure of millions of dollars worth of marijuana, heroin, cocaine, and various other drugs and the seizure of millions of dollars worth of assets and money.
Our police department works in conjunction with other community based task forces in the area, however, the Attorney General's Task Force is the only one empowered and funded by the state of Pennsylvania to actively and aggressively investigate and prosecute drug users and traffickers. To report drug violations, you are urged to call the Wilkes-Barre Office of the Attorney General at 800-833-4020 or our department.
Uniform Crime Reporting (UCR)
Our department participates with the Pennsylvania State Police and the Federal Bureau of Investigation in Uniform Crime Reporting. Crimes are divided into Part I offenses, which are serious crimes, and Part II offenses, which are less serious crimes.
Our Department provides police services to Sugarloaf Township. We also provide assistance to local, state, and federal agencies at their request. Our department consists of a Chief of Police, a Sargeant, and 5 patrol officers.
Each officer specializes in various aspects of policing. Officers have received in-depth training in such things as criminal investigation, accident investigation, and fire/arson investigation. Depending on the type of emergency or incident he may be "called in" to assist in an investigation or incident.
Department members are required to receive 16 hours of continuing education provided by the Municipal Police Officers Training and Education Commission. In addition, cardo-pulmonary resuscitation, first aid skills and fire arms training must be kept current. Department members are certified twice per year by an in-house instructor with their on-duty weapon, off duty weapon, and department shot gun. Specialized training and certification relating to the department rifle is provided during the year.
Each department member is allowed to attend non-mandatory training whenever it is possible. Due to the size of the department, information obtained during these courses is shared with other members to provide the department with the most current tactics and methods of policing.